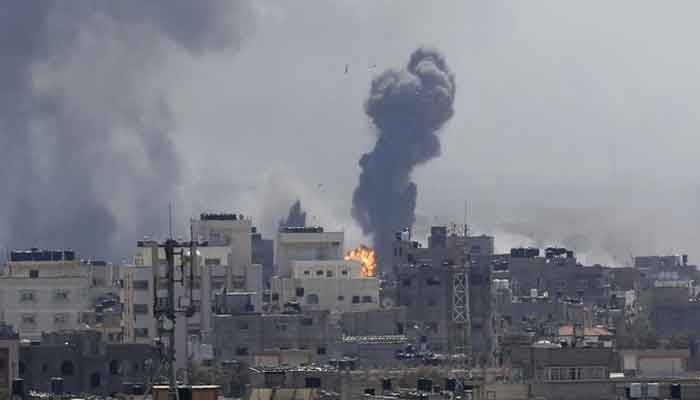 The Palestinians accuse Israel of failing to implement an Egyptian-brokered agreement to ease its blockade of Gaza in exchange for a halt in rocket attacks. On Monday Netanyahu said the campaign was "not over and demands patience and sagacity". A spokesman for the office of Israeli Prime Minister Benjamin Netanyahu declined to comment on the reports but the Israeli military said that protective restrictions for civilians in southern Israel were being lifted as rocket fire had ceased.
The global Israeli news agency Tazpit Press Service (TPS) reported that Islamic Jihad representatives offered compensation to the family for the death of the baby and a woman who may have been her mother. Israel says four of its civilians were killed. One was killed when his vehicle was hit by a Kornet anti-tank missile near the Gaza border.
Tlaib was apparently incensed that the Times included the reason for the IDF response in its headline, preferring to highlight the Israeli attacks.
It commemorates its Memorial and Independence Days later this week and is due to host the Eurovision song contest in Tel Aviv from 14 to 18 May, which is expected to draw thousands to Israel. Hamas leader Ismail Haniya said in a statement on Sunday night that "returning to a state of calm is possible" if Israel committed to a "complete ceasefire".
The coastal area Palestinians are allowed to fish in has been increased, an Islamic Jihad official told the AFP news agency, as well as improvements in the electricity and fuel situation.
Armed factions in Gaza said that they had agreed to a cease-fire with Israel that took hold in the early hours of Monday morning, after militants fired more than 600 rockets toward Israel, which responded with airstrikes.
Palestinian terror groups score propaganda victories regardless of where their rockets land: if they land in Israel, the terror groups can claim victory; if they land in Gaza, the terror groups can blame Israel - and the media will dutifully comply.
"The Israeli occupation has to recognise that the Palestinian resistance will not accept leaving the Palestinians suffering forever". In response, the country's military then bombed a building in the Gaza Strip from which the Hamas hackers allegedly operated.
Rockets rained down on important urban centres, such as the southern cities of Ashkelon, Ashdod and Beersheva.
Now that the smoke has cleared, it appears that this small organization has emerged as the most substantial player both in Gaza in particular and in the Arab sphere in general.
"I feel frustrated, it's madness".
In February, Israel February made a decision to deduct around $10 million a month from the customs duty it collects on behalf of the Palestinians, corresponding to the amount it said they paid families of prisoners or directly to inmates serving time in Israeli jails.