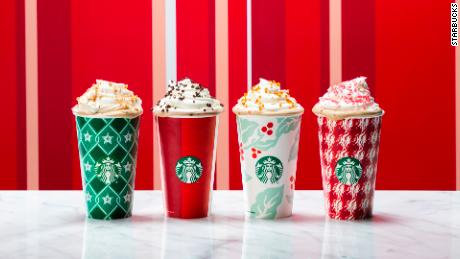 Customers who order a holiday beverage on Friday, Nov. 2 will get a free solid-red limited-edition reusable red cup, according to Starbucks.
Each year, as soon as Halloween is over, the coffee chain reveals its famous red cup.
And, as usual, you can do your holiday gift shopping at Starbucks, which is selling sparkly cold cups and colorful mugs.
There are four new designs: red stripes, a green argyle pattern, red and white flames and one with mistletoe-like coffee cherries in red and green.
If it seems a bit early for this, that's because Starbucks usually releases its holiday offerings seven to 10 days later in the year, chief operating officer Rosalind Brewer told CNBC.
This year, the question from 2015 returns: Is Starbucks truly embracing Christmas?
We'll start with that reusable cup initiative, which is the main reason why we're putting out this story that has a holiday flair out before Remembrance Day, something we typically try to avoid.
"As a brand that is intensely personal, we are humbled by how passionate customers are about our holiday cups", Gould said.
This year, the designs are appropriately festive, although the color choices are more evocative of Christmas than the other season's celebrations. Those who return to the store with this red cup after 2 p.m. between November 3 and January 7 get 50¢ off any grande holiday drink.
Also making a comeback are the six holiday beverages, including Peppermint Mocha, Toasted White Chocolate Mocha, Caramel Brulee Latte, Chestnut Praline Latte, Gingerbread Latte and Egg Nog Latte.
The coffee chain will be giving out these reusable red cups while supplies last, starting when the winter menu goes live on November 2.