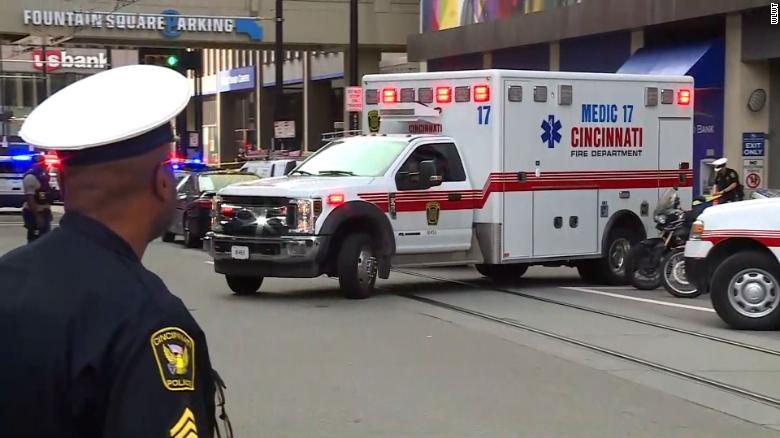 A gunman opened fire at a bank in downtown Cincinnati Thursday morning, killing three people and injuring several more before he was also fatally shot.
A police officer comforts a woman outside UCMC ER following an active shooter situation in downtown Cincinnati, Sept. 6, 2018.
"There may be a possibility that there's some mental health issues involved here", Cincinnati police chief Eliot Isaac told a news conference, cautioning that the investigation was in its early stages. One victim was determined dead at the scene and two died at the hospital.
John Cranley, the mayor of Cincinnati, said the gunman had been "actively shooting innocent victims" - and described the scene as "horrific".
The shooting happened near Cincinnati's landmark Fountain Square. "It could have been much, much worse" without the quick law enforcement intervention, he said. Cain said he then saw a woman also walking into the bank, and that people tried to get her attention, but she was wearing headphones and did not hear them.
"She walked in the door and he shot her", Cain said. Yudy Martinez Perez broke down in sobs when she learned her nephew was the shooter, the Cincinnati Enquirer reported.
The scene was announced as secure at around 9:15 a.m. ET, but there were multiple victims in the area of 511 Walnut Street, which is adjacent to the city's Fountain Square.
It wasn't clear if the shooter was one of the reported casualties. I kind of got down on the ground and then all the cops started coming.
"All he had to do was look over at the counter at us and we would have been shot", she added.
Police said the gunman, a Cincinnati-area resident since 2015, wasn't a current or past Fifth Third employee. "This is an American problem, that we as Americans must solve by putting ideology last and human life first", said Cincinnati Mayor John Cranley.
Perez's aunt said her nephew held various jobs and was now working, though his aunt and her family did not know where. But they said the 9 mm semi-automatic handgun was purchased legally in Cincinnati in August.
The shooter, 29-year-old Omar Enrique Santa Perez, died in a hail of bullets from officers who rushed to the scene. The bank building was locked down for most of the morning, and surrounding streets and sidewalks were closed off. "We didn't know where to go because we didn't have a backdoor", she told reporters.
The other two victims were identified by the Hamilton County Coroner's Office as Pruthvi Raj Kandepi, 25, and Luis Felipe Calderón, 48. The wounded were listed there in critical condition and fair condition.