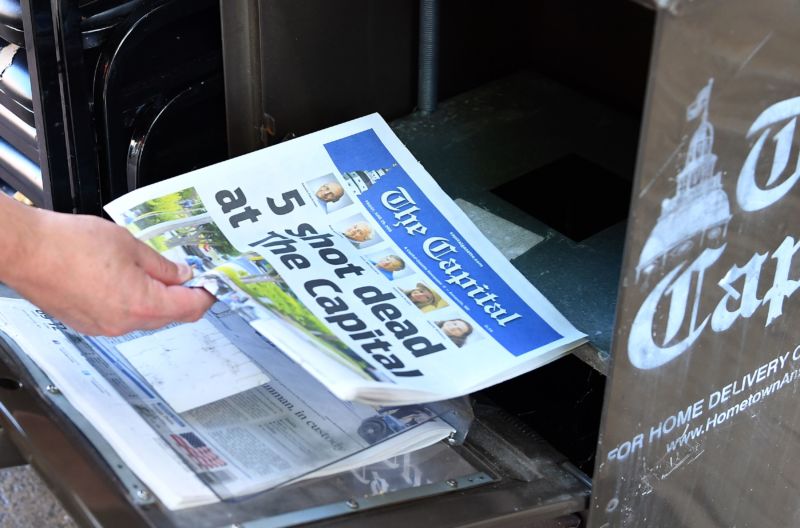 President Trump ordered USA flags flown at half-staff Tuesday in honor of five journalists killed in Annapolis, Maryland, after the town's mayor said the president initially declined his request.
Annapolis Mayor Gavin Buckley speaks at a news conference in Annapolis, Maryland, on Tuesday, July 3, 2018, to discuss the lowering of the USA flag to half-staff to honor the employees killed in last week's shooting at the Capital Gazette newspaper. Spokeswoman Sarah Huckabee Sanders also said Trump ordered the flags to be lowered on Tuesday in a morning press conference with Fox News.
Buckley said that Trump had initially declined his request to lower flags in honor of the victims and their families, the Capital Gazette reported Monday.
Before murdering five people in a Maryland newsroom, Jarrod Ramos signed and mailed a document describing his goal of "killing every person present", police say.
Police found the 38-year-old suspect hiding under a desk and jailed him on five counts of first-degree murder.
Buckley made his initial request through Maryland's congressional delegation.
Since no flag should fly higher than the USA flag, all other flags, including state, municipal, corporate, or otherwise, should also be lowered during this same duration of time, Malloy said. Altomare also said that employees Rachel Pacella and Janet Cooley had been treated at a hospital and released after being injured during Thursday's attack. "It was an attack on freedom of speech". 'This was an attack on the press.
"Obviously, I'm disappointed, you know?".
Police in Maryland identified the alleged gunman in a deadly attack at the Capital Gazette last week.
Presidents usually lower federal flags following the death of former presidents and service members, or other national tragedies.
Five people were killed last Thursday when a lone gunman with a pump shotgun blasted his way into the newspaper office and shot five employees. Trump has ordered flags be lowered after other mass shootings. "I'm going to try and hold him here", she said, clasping her hands to her heart.
President Donald Trump addressed the shooting Friday, calling it a "horrific, terrible thing" that "shocked the conscience of our nation and filled our hearts with grief". Rob Hiaasen, Wendi Winters, Gerald Fischman, John McNamara and Rebecca Smith were victims in the shooting at the newspaper, June 28, 2018.