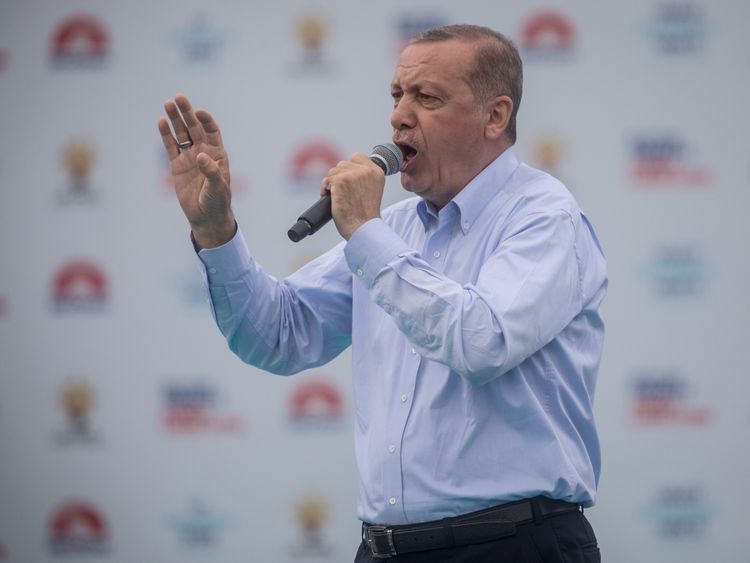 Turkish President Recep Tayyip Erdogan took a commanding lead in his bid Sunday (this morning NZT) for a presidency with broadly expanded powers, according to partial results reported by the country's state-run news agency that showed him with more than 50 per cent of the vote - enough to avoid a runoff.
"President Recep Tayyip Erdogan received the absolute majority of all valid votes", the head of the Supreme Election Committee (YSK) Sadi Guven told reporters in Ankara, without giving further details or numbers after Sunday's polls.
Speaking early Monday, Supreme Election Council head Sadi Guven said 97.7 percent of votes had been counted and declared Erdogan the victor.
Muharrem Ince, the main opposition's presidential candidate, stood at about 30 percent nationwide, television channels said.
The high-stakes presidential contest and a parliamentary election also held Sunday were set to either consolidate Erdogan's grip on power or curtail his vast political ambitions.
Results being compiled by the Fair Election Platform, formed by opposition parties, also pointed to Erdogan winning the presidency in the first round with about 53 percent.
In a speech as the final votes came in, Mr Erdogan said: "The Turkish public has mandated me as president according to unofficial results".
She and others in the city said they voted for the pro-Kurdish HDP, hoping it would exceed the 10 per cent threshold of votes needed to enter parliament.
Erdogan, 64, also promised to deliver more of the big infrastructure projects that have characterized his time in power and helped make him the most popular - if also the most divisive - leader of modern Turkish history. If the HDP manages to get into parliament, it could reduce the number of seats Erdogan's alliance will hold, threatening his parliamentary majority.
The state of emergency has been in place since July 2016 following a failed deadly coup blamed by the government on the movement of Fethullah Gulen, a US-based self-exiled religious leader. He said turnout appeared to be high and that "no serious incidents" had occurred.
The President narrowly won a referendum previous year to transform the country's parliamentary system to a powerful executive presidency, in what his critics called a blatant power grab.
Bulent Tezcan, a spokesman for Ince's CHP, said party observers had been kept away from polling stations in the southeastern Sanliurfa Province with "blows, threats and attacks".
Mat Nashed, reporting for The National from Diyarbakir, says there is heavy security presence around each school that has turned into a polling station.
"I voted for the AKP for the future of my children, but my children voted HDP", said one man, adding that he voted for Mr Erdogan over fears that if the president is not again elected, he will start another war in Diyarbakir.
He accused Mr Ince - a former teacher and MP of 16 years - of lacking the skills to lead.
Voting already closed last week for Turkish citizens resident overseas, with just under 1.5 million out of just over 3 million registered voters casting their ballot, a turnout of just under 49 percent.
In particular, the collapse of agriculture, a plunge in the value of the lira and a sudden rise in food prices may deliver Erdogan a shock at the polls, Opposition party workers say.